The River Tay Community Sport Hub brings together sport clubs and community organisations who want to develop and grow the sporting offering on and around the River Tay.
The Hub members work together on sustainable, community-led approaches to develop welcoming, safe and fun environments for sport.
The River Tay Community Sport Hub meets roughly every 6 weeks and since inception has worked on a number of projects, such as:
2023 – Between the Bridges Event. 24th May 2023, clubs within the hub will put on a showcase of all the sports and activities that use the River Tay in a HUB promotional event. Starting at 7:45pm on the 24th with a Gazebo station across from 2 High Street, club members will be available to chat with members of the public about accessing sports clubs that use the river and watch all of the activities taking place between the Queens and Smeaton Bridges. Link to press release below,
RIVER TAY SPORTS HUB INVITES COMMUNITY TO THE TAY | News (liveactive.co.uk)
2023 – March & May, volunteers attended 2 x Radio Training courses taking place at Willowgate Activity Centre delivered by Norman at Taymara.
2023 – 4th February, volunteers from clubs attended an Outdoor Sports First Aid course delivered at Bells Sports Centre.
2022 –  The River Tay Community Sports Hub were successful in achieving a Volunteer Upskilling Fund Grant for £3,500. The grant will be used to support key volunteers in receiving training in Outdoor Sports First Aid, Radio Training and for the use of purchasing radios for clubs involved in the HUB. 
2022 – 

Press release and photo opportunity to promote website and river safety
2021 – 
River Tay Community Sport Hub website produced to promote the Hub
2021 –
June litter pick in and along the Tay
2020 –
The pandemic hit, we focussed on bringing clubs together to support each other
2019 –
Promotional leaflet produced to promote the Hub and Huc clubs & organisations
2019 –
Funding secured for floating marine radios for Hub members, to link to the Harbour
2019 –
Defibrillator funded and installed at Willowgate Activities Centre
2018 –
Walking group funded to help people recovering from addictions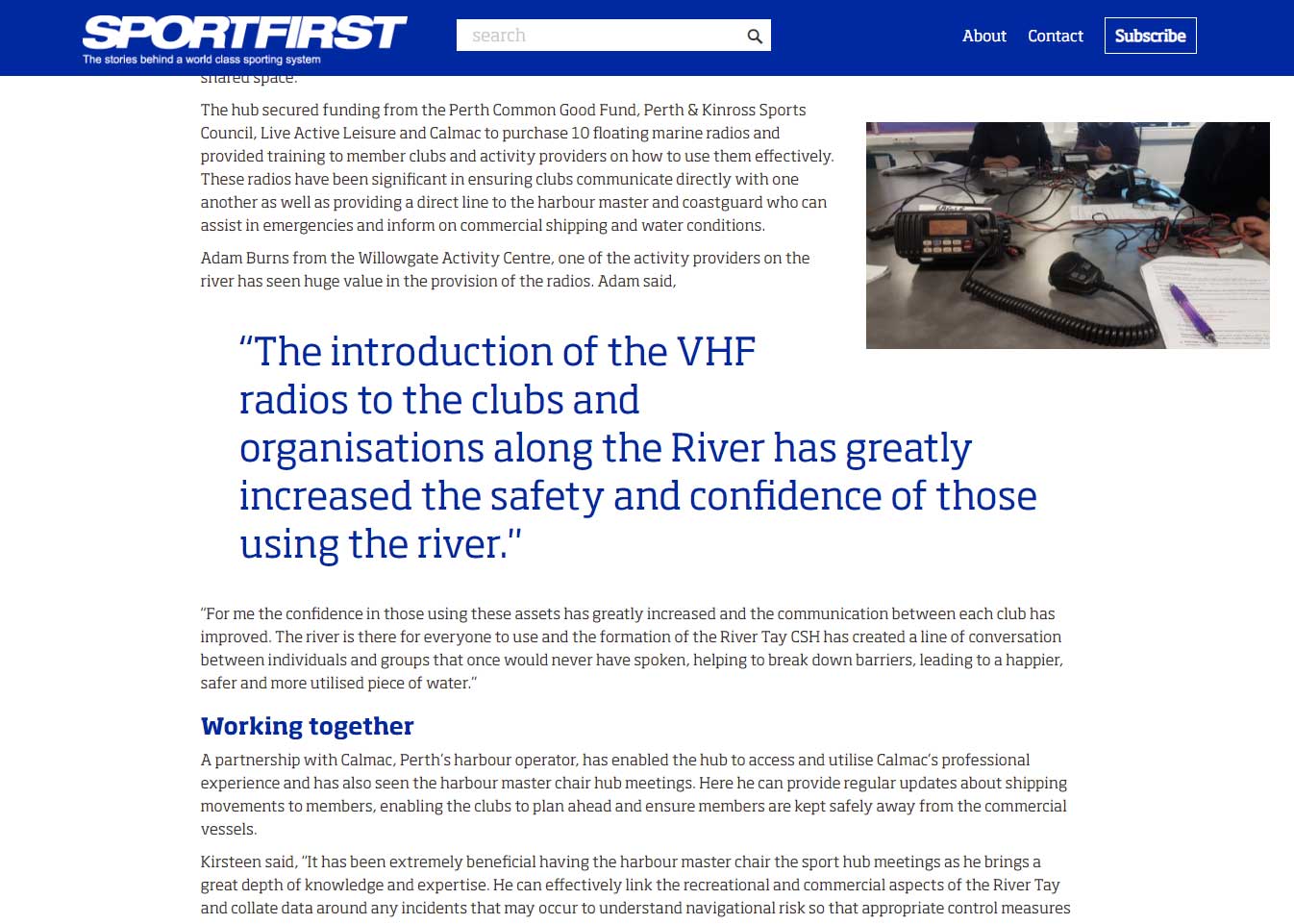 Community sport hubs are National Lottery funded and are one of sportscotland's key programmes which contributes to Legacy and supports local sport clubs to play their part in a world class sporting system.